マラリア議連へ要望書を手交/Announcement of Policy recommendation for the integrated strategy to tackle malaria by Malaria No More Japan, and handover to the Parliamentary Group to End Malaria by 2030 in Japan
English follows Japanese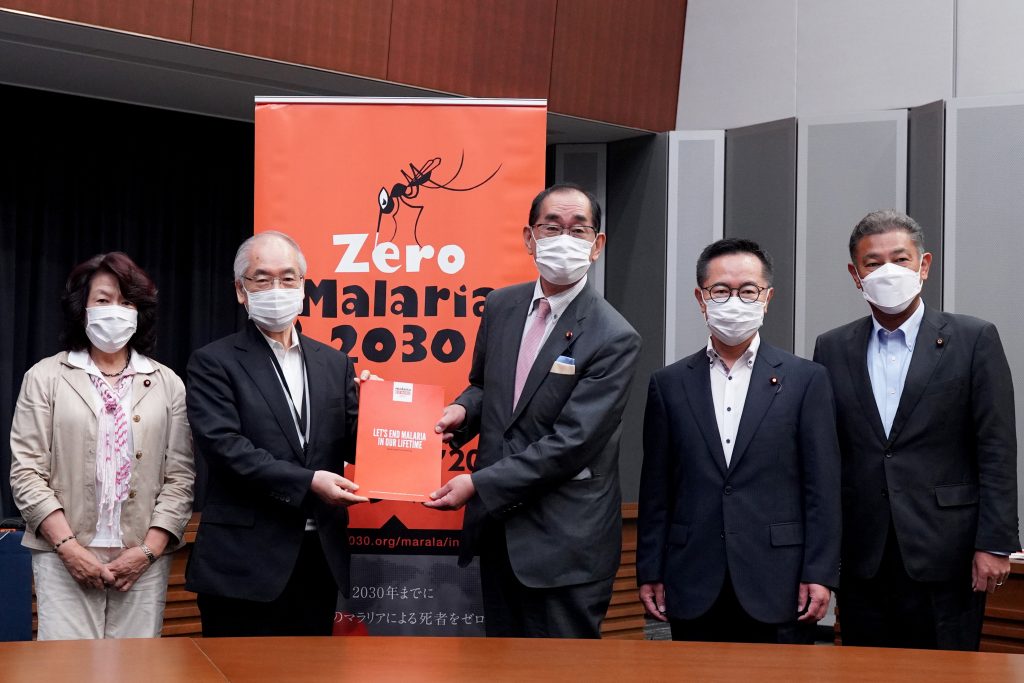 7月19日に参議院議員会館内で開催された国際会議「サブサハラアフリカにおける稲作振興とマラリア対策」で神余隆博Malaria No More Japan理事長より、2030年までにマラリアをなくすための議員連盟会長である衆議院議員の松本剛明氏へ日本のゼロマラリアに向けた統合型戦略の要望書が手交されました。
本提言は、同会議でロンドン大学衛生熱帯医学大学院(LSHTM)教授であるジョー・ライン博士らによって報告された「サブサハラアフリカにおけるコメとマラリアの関連性」に関する調査結果を踏まえ、Malaria No More Japanで作成されたものです。
要望書は以下よりダウンロードできます。
「サブサハラアフリカにおける稲作振興とマラリア対策に対する要望書(PDF)」
At the international conference "Rice Cultivation and Malaria Control in sub-Saharan Africa" held on July 19 in the House of Councilors Building, Dr. Takahiro Kamiyo, President of Malaria No More Japan, presented a written request for an integrated strategy toward zero malaria in Japan to Takeaki Matsumoto, a member of the House of Representatives and Chairman of the Diet Members Caucus to Eliminate Malaria by 2030. The proposal was presented to the conference at the same meeting.
The proposal was prepared by Malaria No More Japan based on the results of a study on the "Association between Rice and Malaria in Sub-Saharan Africa" presented at the conference by Dr. Joe Rhine, Professor at the London School of Hygiene and Tropical Medicine (LSHTM), and his colleagues.
The request form can be downloaded below.
Request for Malaria Control along with the Promotion of irrigated Rice Cultivation in Sub-Saharan Africa